Why does one suffer from back pain at the office or from working remotely?

How do we fix the problem?

Here are some good tips!



The chair and back pain at work
For me, this is not an office chair.
No adjustments can be made and it comprises a hard seat and a hard backrest.
If you can work 6 hours a day, long term, on a chair like this one without getting back pain at your home office, I'll raise my hat to you!
An office chair could look more like this (assuming that the backrest is adjustable). Already, if you have a chair that looks like this one, you are more likely to be able to adjust it to your back.
Ideally, we would want this chair to have:
a seat that adjusts in height, depth and angle of inclination;
backrest that can be adjusted in height and tilt, and that is high enough to cover the back well;
a lumbar curvature of the backrest that follows your own lumbar curvature (ideally, the backrest should fit well with your back). An adjustable curvature can help.
Some vendors have showrooms where you can try the chairs. I often say that chairs are like shoes; it's worth trying them!

Adjust Chair Properly
Then, the chair must be well adjusted to your body. This means:
Feet firmly supported on the ground (or on a footrest - repose-pieds);
A space of approximately 2 to 3 fingers between the back of the knee and the chair;
Well adjusted backrest and lumbar curvature.
Of course, you could also adjust the arm supports, seat tension gauge, and angles of inclination, but let's keep it simple for the moment.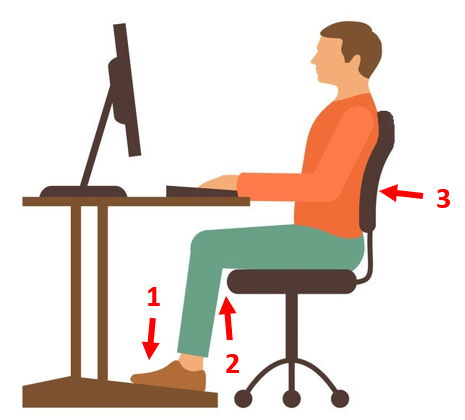 And What if the Backrest is not Comfortable
If you do not intend (nor have the budget) to replace the chair, you might try to add a cushion behind your back for the time being, and see if this helps to reduce the discomfort on your back. I would recommend you try various different cushions to see which one provides you the most comfort.
Furthermore, some companies, such as Obusforme, also offer backrests that can be placed against your chair's backrest to improve your back's comfort.
But beware! Using an Obusforme cushion or backrest will advance the position of your body on the chair. You may then end up with insufficient support on your seat. That is, the space between your knees and the chair may be too large, and may lead to some discomfort. The ideal solution, in my opinion, is still an adjustable office chair, sized just right for you. In doubt, you can consult an ergonomist to help you make your choices.

Work while Sitting-Standing
If the solutions described above are not enough to resolve your back pain at the office, you may want to consider purchasing a height-adjustable desk. Such a desk would allow you to alternate between sitting and standing positions to do office work. According to some publications, sit-stand workstations could help reduce low back pain among workers.
But before considering this purchase, make sure this desk will be useful to you!
It may be difficult to accomplish a task that requires a lot of concentration while standing. And, furthermore, some people have difficulty working while standing for extended periods of time.
It is usually recommended to work in a standing position for periods of approximately 20 to 30 minutes at a time, sometimes more (CCOHS), depending on your personal needs and the recommendations of your health care professional. And to be more comfortable in a standing position, add equipment (footrest, rigid plastic box, etc.) with a height of about 15 cm (about 6 inches) to alternately rest one of your feet (left and right).
The main thing is to change your posture according to your needs.

Move, Move and Move!
The human body is not made to sit 7 hours a day, 5 days a week!
Take breaks, at least 5 to 10 minutes every hour (see more) whenever possible. Take this opportunity to get a coffee, chat with a colleague or do a short housekeeping task if you work from home.
"Yes, but I never think of it"...
The solution: Set an alarm on your phone!

There are also various software programs to help you, such as Workrave.
And keep on doing physical activity! Walking, swimming, cross-country skiing are often good options! Of course, this needs to be validated by your doctor or therapist, if necessary.
If it is approved, go ahead! Let's take a walk!
And, of course…
This article is not intended to cover all the possibilities that may be encountered in office ergonomics, but simply to give basic information to help you prevent the incidence of pain and injury.
You have more question about back pain at the office? There's nothing like a good consultation with a professional!